Mary Read took being a woman in a man's world to a whole new level.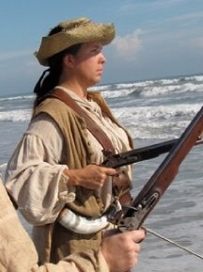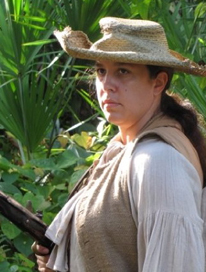 Raised as a boy, she lived her life in the clothes and careers of men. She also served on both sides of the law - first in the King's Army and then going down in history as a pirate who sailed under the flag of Calico Jack Rackham. She was known as a cutthroat and referred to as a 'Hellcat' by men who came against her in battle.
But, instead of just reading about her, why not talk to her yourself.
I have spent years studying the life of Mary Read, fascinated by both the inner and outer strength and drive she had to take on the life of a man in the early 1700s. I have walked in her footsteps down the brick streets of Port Royal, Jamaica and looked from her hideout in Green Turtle Cay in the Abacos.
I bring Mary to life for your event in a number of different ways:
Roving Character
Do you want historical characters to bring your event to life? Mary will don her straw hat, axe and be ready to talk about her life portraying a man and the good and bad parts of life as a pirate. She can also tell tales of the places and things she has seen on the seas, including fond memories of Jamaica and the Bahamas. Bring on the cameras and questions!
Children and Family Presentations

Mary Read has dealt with some of the most ruthless pirates and military officers on the seven seas. So, a room full of kids, no matter how big, is no problem.

From school assemblies to smaller entertainment venues, Mary will talk to the audience about her career as a pirate, living aboard a ship and even illustrate some aspects of pirate life with interactive events.

Mary's Life Story

When it comes to life stories, Mary has one that few others can even imagine. She was raised from birth as a boy, for her mother's financial gain. But this gave her a unique insight, learning early on that it is, in fact, a man's world and how many more options she had if she were male.

Hear a first-hand telling of her life story including tales of fighting on a British Man of War and being a part of the Calvary at Flanders. She'll brag about riding the high seas as a pirate, the places she visited and some of the people she met along the way. She will even reflect on tender moments of her life of being in love as well as tearful moments of love lost. Once her life story is complete, audience members are welcome to ask questions to answer any of their curiosities about her life.

The Trial of Anne Bonny and Mary Read

Mary's end was not a pleasant one. She died of a fever in a dank jail cell in Port Royal, Jamaica, after being found guilty of committing the acts of piracy as a part of Calico Jack Rackham's crew.

Mary, aided by a cast of seven can recreate the trial of Anne Bonny and Mary Read and show the hard hand of justice as it was brought down on pirates towards the end of the Golden Age of Piracy. And for once in her life, see how Mary was able to use the fact that she was a woman to her benefit, with a defense only a woman could use to escape finding herself dangling in a noose.
E-mail for More information or to book Mary Read for your event.